As for the past two years, we will be awarding the Steve Frisby Memorial Trophy for the best game in the show, as voted for by our members. (OK, to be fair, 'voted for' usually translates to the chairman running round the show at 2:30 and canvassing the opinions of any members who haven't passed out from exhaustion, but you get the general idea!). our criteria tend to be that the winner is a game we think Steve would have enjoyed, and that we as a club wish we'd have come up with!
Past winners have been:
2015 – Huntingdon Wargames Club – Catch The Pigeon
2016 – Forest Of Dean Gamers – Martian Practice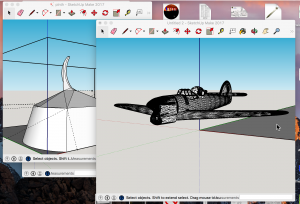 In addition, this year, we're beginning a new award, the Nick Hawkins Memorial Trophy. This is a little bit different, in that it is entirely 3D printed with the exception of the plaque: the base and stand are printed in a wood effect filament, and the plane itself is one of Nick's own 3D design files of a Hawker Hotspur. We've chosen to award it to the game we consider the best build, be it the best scenery or the cleverest bit of engineering – we think Nick would have liked it that way.