The 14th trader attending this year's show is also the show sponsor, so please say a friendly hello to Footsore Miniatures.
F

ootsore Miniatures was established to provide high quality metal miniatures for gamers and collectors alike. Its foundation is built on the old Musketeer Miniatures range of figures and continues to be principally sculpted by the same designer, Bill Thornhill.
Footsore Miniatures is a trading name for War Banner Limited so this stand will also carry War Banner's rather splendid Gangs of Ro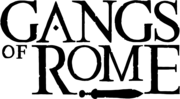 me game which has been gaining popularity recently, and will also have a large selection of MDF buildings and accessories from the Sarissa Precision range.