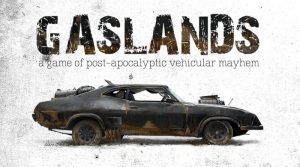 We are beyond delighted to announce that this year, we have invited Mike Hutchinson, author of the hit post-apocalyptic driving/combat game Gaslands, to come and run a tournament at the show.
If you haven't come across the game yet, we strongly recommend it – it's a massive hit at our club, and winner of the UK Games Expo award for Best Miniatures Rules (both judges' award and public vote).
If you're interested, you can sign up via the link above or on the right: entry is £10 including show admission, and we will be using the Gaslands Organised Play rules that Mike has drafted.