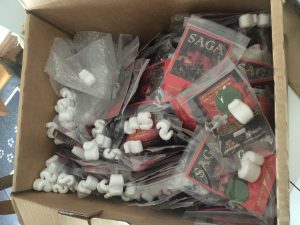 To our surprise, and slight bemusement, a UPS delivery man knocked on our chairman's door on Wednesday and delivered a box of 250 of Gripping Beast's finest Harald Hardrada figures! Bemusement because they were supposed to be delivered to a local UPS drop off point, but given that the chairman's wife was in at the time, all was well.
Once again, our thanks to Gripping Beast for the figures, and for lighting a fire under UPS, and to Harald himself.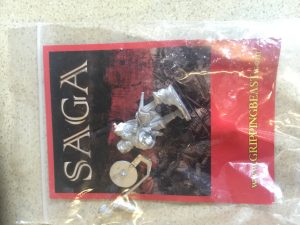 You're probably now wondering "I was at the show and missed out – how can I get hold of one of these?"
Unfortunately, mailing them out would be prohibitively expensive (it would kill a sizeable part of next year's budget), and we don't have all your addresses anyway. So, here are your choices:
Collect one from the club on a Monday night – we're at 38a Cowgate, Peterborough (the St. Johns Ambulance building under the arch) from 7:30 to 10:30;
Catch Reuben (our secretary) at PE2Collectables at a wargames show, or let him know when you place an order.
If you have other suggestions, please drop us a mail at the address on the right or poke us on Facebook, and we'll see what we can work out.
Obviously, we are going to have to rely on your honesty to prove you were at the show, but wargamers are in general decent folks, so…