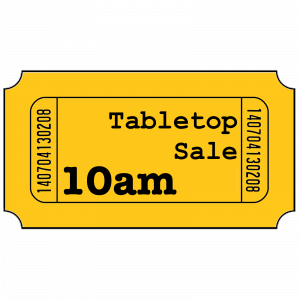 Slots are available for the tabletop sale now: see the sidebar for details.
We've revamped things for this year slightly. First off, there are now five, rather than four, one hour slots, starting at 10am rather than 10:30am. If you're booked in for the 10am slot you'll be able to get in a little bit ahead of time to set up. Secondly, we've changed the prices slightly – the average cost of a table is still the same, but they now range from £7 down to £3 as you get later in the day. As before, this doesn't include admission.
We would ask, as a courtesy to other traders (and we're aware our store won't let us restrict this in software) potential traders could restrict themselves to a maximum of three slots initially.