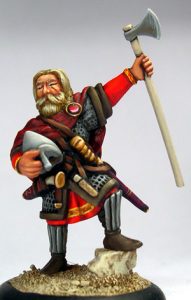 Thanks to our sponsors Gripping Beast, the firs 250 attendees at the show will each receive one of their gorgeous "Harold Hardradda, Viking Hero" 28mm figures (yours will be unpainted, though :D). Those who made it to the show last time will be able to add it to their Hereward The Wake figure from 2015, and we just might have a few of those left at the club's Hereward game if you missed out last year.
We'll be setting aside figures for folks who have paid for advance admission, whether on its own or as part of another ticket type, so to make sure, you might just want to book ahead 😀 (We're sorry, but if you book and then don't make it to the show, we can't guarantee to save you one.)
Once again, our thanks to Andy and the team at Gripping Beast, who have been supporters and headline sponsors of the show since its inception (who else would you ask with a name like ours?). Don't forget to say "hi" to their demonstrator Richard, who will be running SAGA demos all day, or you can pop up and admire the SAGA tournament players' armies (or heck, why not sign up!). And if you want some more of GB's figures,  regular stockist Ainsty Castings will be at the show with a full range.