The 15th trader we can announce as attending Hereward 18 are newcomers to our show. Please say hello to TableScape.
TableScape manufactures model scenery for use with 25-30mm figures.  Some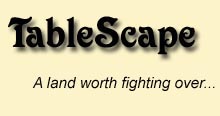 pieces, such as their range of modular hills, are suitable for use with other scales. They try to cater for a wide variety of eras from the early modern, through the present, and into the future.  Some ranges are aimed at specific periods or geographical locations, but they have tried to design the models for potential wider use so their customers can get the most out of their purchases.