As we suspected, Warlord were not to be the final trader we announced for this year's show as we have been able to squeeze in a late booking from Stand To Games.
From the success of the Napoleonic war game rules Over the Hills, authors Quinton Dalton an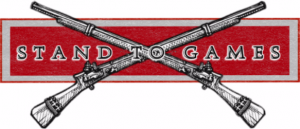 d Adrian McWalter formed the company Stand to Games Ltd early 2017. Their aim is to provide a series of army lists, accessories, 28 mm figure ranges and products to compliment Over the Hills as well other rule sets and gaming periods. Adrian and Quinton have been war gaming since their early teens so have over 80 years of experience between them!